Rehab Case Studies
TF was admitted to Bayview Rehabilitation and Healthcare Center after having undergone brain surgery, which left him fully dependent on his care team. This patient required maximum assistance with all activities of daily living.
We are excited for him to return home walking up to 750 feet at a time and performing his own care with the supervision of his wife. It is a pleasure to spend time with this couple and Mrs. F has worked just as hard as her husband to make this a successful transition to home. We are grateful to partner with Oakley home health during visits to our customers' homes to ensure all safety equipment and home modifications can be made by licensed and trained professionals who specialize in aging in place.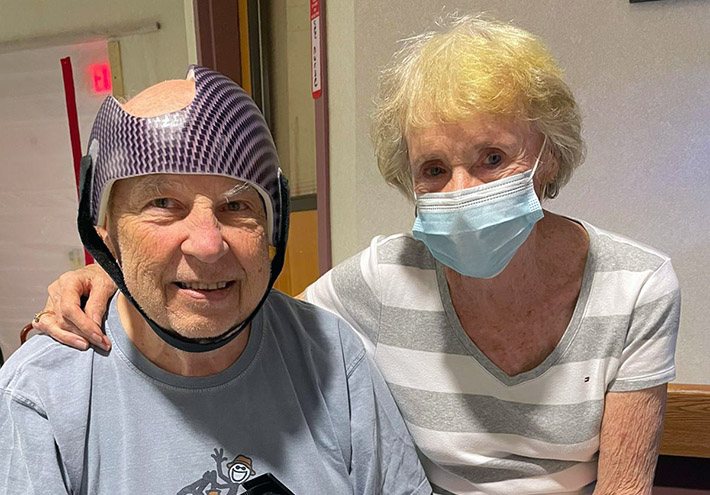 Nursing Interventions
Maximum assistance with meals, personal hygiene, and dressing.
Maintain proper nutrition
Monitor Labs and Vital Signs
Rehabilitation Interventions
Maximum assistance with transfers in and out of bed, in and out of a chair and with ambulation up to 30 feet.
Maintain and educate patient on safety awareness with transfers and ambulation.
Short Term Memory Loss – requiring cues and alternative suggestions to support patient with memory and day to day activities.
Interdisciplinary Team Approach
This resident benefited extensively from skilled physical, occupational, speech, and nursing therapies in a multidisciplinary approach to achieve the most optimal clinical and psychological outcome. Both his strength and memory improved substantially.
Accomplishments
At the time of discharge, he was walking up to 750 feet at a time, self-feeding, and performing personal hygiene with the supervision of his wife.
This patient was determined to return home as quickly as possible. His team developed a personalized care plan that included the patient and his wife. Both the patient and his wife expressed sincere gratitude for the care received at Bayview.
"A special thank you to the nurses for setting up transportation to his doctor appointments – Rhode Island hospital is very busy, and I was happy I did not have to drive him there myself! We also want to share that the gardens and courtyard area is very peaceful and beautiful. Happy Tears for us going home together! Thank you, Bayview"
---
Mr. M arrived at Bayview Rehabilitation and Healthcare Center after an acute care stay at RI Hospital. Upon admission, he was evaluated by the interdisciplinary care team (IDT) which included evaluations by: Occupational Therapy, Physical Therapy, and Speech Therapy.
An individualized care plan was developed and tailored to meet his unique needs, and he was placed in the Orthopedic Specialty Program, to assist him in transitioning to the next level of care.
Date of Admission
May 31, 2022
Attending Physician
Dr. John Gelzhiser
Admission Assessment
Required moderate assistance with bathing and dressing and minimal assistance with hygiene tasks, toileting, bed mobility, ambulation and transfers.
Decreased balance and deconditioning.
Moderate fall risk.
Limited participation secondary to generalized weakness and deconditioning.
Discharge Assessment
Actively engaged with the IDT and eagerly participated in care team meetings and therapy.
Decreased balance and deconditioning.
Skilled interventions were provided, and he was able to maximize his functional status of modified independence, which included: bed mobility, ambulation, transfers, personal hygiene tasks and bathing. Dressing and toileting required some supervision.
Date of Discharge
June 25, 2022, to home.
Great work Mr. M!
---